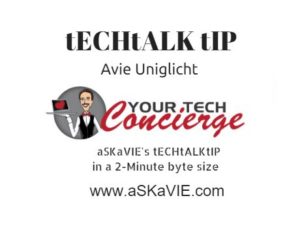 You may have caught one of my 2-Minute Byte Size audio tECH tALKtIPS either via my Amazon Echo device skill (Flash Briefing) or in one of many Social Media venues. This is a place where you can find the archives of those MP3 files for your download or review. You may also catch my Anchor Archives for more. If you have any questions or comments, I'd love to hear from you. Please contact me anytime.
Is Anybody Out There? – 1/2/18
Resolutions vs Habits – 12/26/17
Your ISP, Released from the Net of Neutrality – 12/19/17
Are You Malware Aware? – 11/14/17
iPhone X – Yes or No? – 11/07/17
Windows Users – Time for a Tune-Up? – 10/31/17
Is your WiFi on KRACK? – 10/24/17
An SSD for You and Me? – 10/17/17
So you want to Broadcast? – 10/10/17
The Echo Family is Growing – 10/03/17
Protect your Credit and Identity – 09/26/17
A Recipe for your Data Storage – 09/19/17
Newest, Latest, Best? – 09/12/17
Secret Social Sauce – 09/05/17
Thinking Outside of the Box- 08/22/17
Are You Socially Responsible?- 08/15/17
Who's got your Back?- 08/08/17
Security "Av-wareness" Training – 08/01/17
Bitcoin – Why Should I Care?- 07/25/17
No More Excuses – You CAN Do It- 07/18/17
Document with Pics, Audio & Video- 07/11/17
Beginner's Guide to Podcasting – 07/04/17
Your Devices, but Who's in Control? – 06/20/17
Beacons – The Good, The Bad & The Ugly – 06/13/17
5 Reasons People Fail to… – 05/23/17
Prepared with Knowledge – 05/09/17
Secure Your Internet Connected World – 05/02/17
Prevent Malicious Access – 04/11/17
Alexa on your Mobile Device – 04/04/17
Create your own Radio Program – 03/21/17
Your Personal Computer Drivers License – 03/14/17
Organize your Files – 03/07/17
If you'd like to download the File Cabinet .zip file template that I use, Click Here and Save the the File Cabinet to your PC or Mac . Extract the .zip file in your documents directory or directory of choice and it's ready to go!
Is it safe to do this? – 02/28/17
Stand up for Health – 02/21/17
Document your Digital – 02/14/17
Electromagnetic Hyper Sensitivity (EHS)